Saturday, Oct 21st BB Cycling with Jared Fleming
Alpine CrossFit – CrossFit
Announcements
Athletes! Please enjoy today's guest coach, Jared Fleming :).
Also, remember to sign-up for dry needling on Monday with Katie!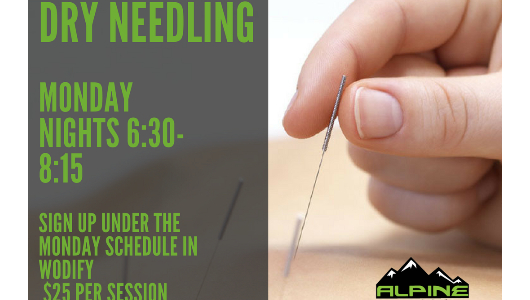 Warm-up
Before warm-up:

-Introductions. Help Jared learn your names, and get to know Jared a little bit
Warm-up (No Measure)
800 m run

5:00 min mobility with coach (ankles , shoulders, hips)
2 rounds:

-10 PVC pass throughs

-10 round the world

-10 overhead squats

-10 leg swings
Skill Work:
Take 20 minutes to work on Snatch technique and Snatch cycling w/ coach
Metcon
Running Randy (Time)
3 Rounds:

-25 HANG Power Snatch (#75/55)

-Run out the front door to the first yellow pole outside apache steele
13 min Time Cap
Choose a weight that will help you complete this workout in the time cap.
New to CrossFit?

-Choose a light Dumbbell

-PVC pipe

-Trainer Bar

Cannot Run?

-Row 275m
Cool Down
2 Rounds:

1 min cobra

1 min child's pose